This is my rifle. There are many like it, but this one is mine.

My rifle is my best friend. It is my life. I must master it as I must master my life.

My rifle, without me, is useless. Without my rifle, I am useless. I must fire my rifle true.

Rifleman's Creed, USMC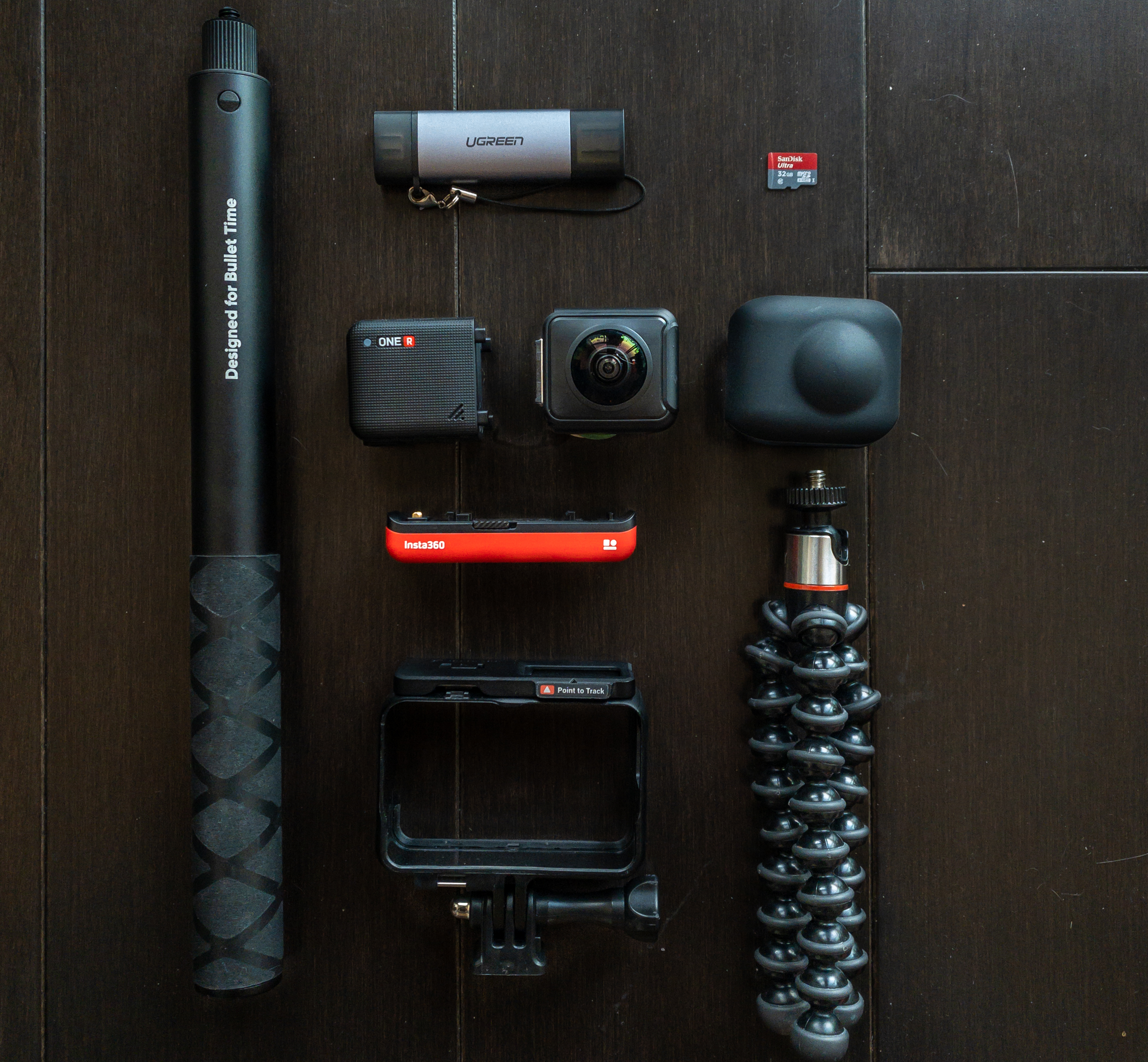 Pic: Wow. Stuff. V dark.
While not quite a as dramatic as your rifle, your shoot kit is probably one of the most important set of tools to know. Below is a brief description of each part of the kit. Over time the specific models of items may change but the responsibility of each piece will still be the same.
Pictured
Insta360 One R with 360 Lens Mod and Lens Cap

Still Photos: 18 MP, (6080 x 3040)
Video: 5760x2880@30fps
HDR capable
Capable of shooting RAW DNG

32 GB MicroSD Card, U3 class or higher

Each HDR photo takes ~12MB of space. Therefore, a 32 GB SD card should provide enough space for ~2,6666 HDR photos. The U3 designation defines the throuhput of the card, i.e. how quickly the camera can write images to the card. A U3 card is capable of sustained writing 30MB/s, more than enough for the 4k output video.
For more information about SD Cards, checkout the SD Association write up on speed class.

One R Bracket with Go Pro Bindings

This comes with the 1/4"x20 female screw bindings. Comes included with the OneR pack.

Insta360 Monopod (Selfie Stick)

This particular model extends up to 120cm (~47") placing the camera at eye level for a short human. This is important because photos should be shot from roughly eye level to give the viewers an eye level viewing experience.
Link: Insta360 Store

Tripod Base with 1/4"x20 male screw head

This supports the selfie stick and turns it into a functioning monopod. Selection for this piece is still underway. An inadequite tripod can cause the monopod to fall over and damange the camera. Unfortunately, I'm speaking from experience.

SD Card Adapter Reader

Something to get your photos off the camera and onto your computer.
Not Pictured
Apple Mobile Device

Necessary for shooting videos. The mobile device is used as a preview and remote control for the camera. It is theoretically possible to get away with out this but it is definitely NOT worth the hassle. Download the Insta360 One R App from the app store.

MacOs based computer

Necessary for post processing and upload.
Preferably Lightroom or some equivalent for minor photo touch ups.

Auto WB correction
Spot removal

USB-C Charging cable (for camera)